Superstars Sports and Dance Camps have been running for 15 consecutive years since starting in 2007. During this time, we have expanded to provide you with over 15 different venues for your children to attend, along with adding activities such as LEGO and Arts & Crafts, which we provide over the summer holidays, to our ever-popular football, multi-sports and dance camps. Every enjoyable session that the children participate in are fully risk assessed as well as the venue as a whole which is available upon request.
Holiday 
Camps
All our staff at Superstars are DBS checked and have extensive knowledge in their field whether that be multi-sports, dance or any specialist activities we are offering on that particular day/week. Each member of staff ensure that your child's day is structured, safe and engaging with the flexibility for the child to choose their activity at any given time. Many of our workers at our centres have experience working in primary school and high school settings and fully understand what children of these age brackets require.
Superstars Sports Holiday Clubs ensure that staffing ratios to children are in direct line with OFSTED regulations (if not a better ratio) to ensure that your children are safe, secure and enjoying their time when taking part at our holiday clubs.
Prices for the Holiday Club
0800-1630 – £18.00 per day, or £80 for the whole week
If you wish for late pickup slot from 1630-1800 it is £3 per child per session which can be booked online when you make your booking
Available on request at all of our venues are our venue-specific policies such as equal opportunities, child protection and health and safety. Furthermore, at every site, there is a fully qualified first aider available.
A Day
On Camp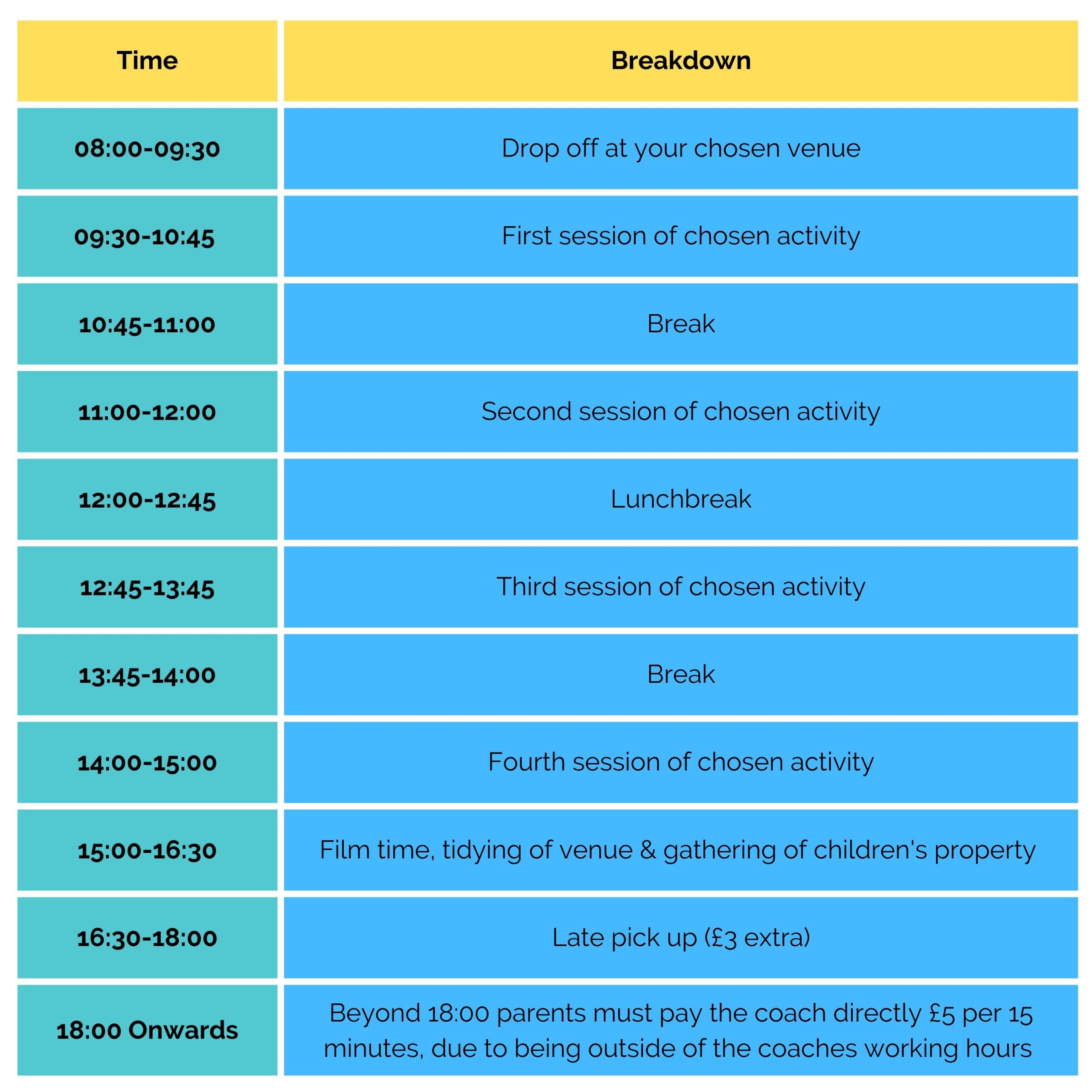 *During our longer Camp Seasons, in addition to Football, Dance and Multi-Sports we also offer a week of Arts & Crafts as well as LEGO*
Find a
Club.
Town Search or postcode search